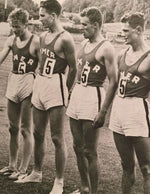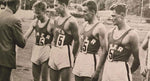 TRACK & FIELD
A SPORT WHERE AESTHETICS MATTER
TRACK & FIELD
A SPORT WHERE AESTHETICS MATTER
MY GREAT PASSION
"Since 1984, athletics has been my great passion. The simplicity, the measurability, the stadiums, the records and not least the fashion image of the performance wear, are all parts of this fantastic sport"
- Peter Häggström Lindecrantz
Founder & CEO
ATHLETICS IN OUR DNA
I competed for 17 years for the sports club IK Ymer and got to experience absolutely fantastic athletes, coaches and competitors during this time. The club was the local association with a long history of successful athletes. IK Ymer was born in 1917 and quickly came to involve several sports, but quite quickly track & field and running became a big part of the club's DNA.
YMER
With the name Ymer, which comes from Nordic mythology and the giant Ymer, who is the athlete who carries the world on his shoulders, the club still stand out from the crowd today. The simplicity of the performance wear of that time is something I like and which we at YMR Track Club are still inspired by today.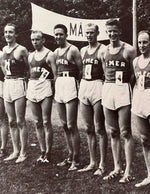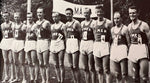 OLYMPIC INSPIRATION
The simplicity is also reflected in the sport, where, for example, running is basically about slightly longer steps, more often. As a long jumper I competed in 2000 in Sydney. This was an experience out of the ordinary. Crowded stands and a dream that came true. After my career, I also worked as an expert commentator for Swedish TV at the Olympics in Beijing in 2008 and in Tokyo in 2021. The Olympic Games are, for me, the most powerful thing you can experience as an athlete.
BREAKING RECORDS
In a world where records are broken relatively often, it is fascinating that the world record in long jump of 895 cm (Mike Powell) has stood since the World Championships in Tokyo in 1991 and the second longest jump of 890 cm (Bob Beamon) is from 1968 in Mexico City. That is 55 years ago (!) and in my opinion the sporting achievement of all time.
Today, no one comes close to these results despite high-tech shoes, more advanced tracks and increased knowledge about training, nutrition, health, etc.
TIMELESS PERFORMANCE WEAR
At YMR Track Club, our goal is to create timeless garments with innovative solutions for the athletes of our time. The aesthetic is 100% track & field and running. It is from the arenas and our own history that we find our inspiration. With a collection that is adapted for both on and off track as well as trail and road. In addition, a large part of our production remains in the same area that the club comes from; Beautiful Sjuhäradsbygden in Sweden"

Peter Häggström Lindecrantz, founder and CEO YMR Track Club
MORE FROM THE JOURNAL
MORE FROM THE JOURNAL