100 DAYS OF CHANGE!
With YMR Track Club Founder & CEO, Peter Häggström Lindecrantz
It has been 20 years since I ended my career as an athlete. Slowly but surely my shape has gotten worse and the years since I once competed in the Olympics have passed quickly. The workouts has decreased, everyday exercise has not been sufficient and the diet is extremely questionable. At the end of March, I decided it was time for a change! One hundred days later I am at the finish line and the change is above all my expectations.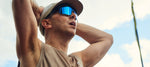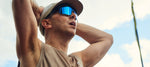 I started with sports early. Already as a 9-10 years old, I trained five-six times a week and then mainly as an elite gymnast. Later, I switched into track & field until I was 26 years old. So exercise and health have been a big part of my identity for a long time.

The years have passed by quickly and I no longer able to take credit for the healthy lifestyle I once had. The diet has gradually deteriorated and in recent years there has been too much cinnamon rolls and Swedish "fika" and candy.

And when a bowl of chips was on the table, I did not eat five chips, but rather one hundred and five chips - at least! I used to be able to compensate for a poor diet with tough training, but when you get older, that rule no longer works. It was time to make a change!

THE WORKOUT SESSIONS
On March 21, I started. The first thing I did was to set up an exercise program that I spread out over the 100 days where I had one day off a week. In other words, training six days a week.

Three sessions were tabatha sessions with six exercises. That is, interval training 8 x 20 sec with 10 sec rest between each set. Tabataha is perfect if you have difficulty getting workouts into your everyday life. Each session takes about 25 minutes and gives both strength and endurance training if you keep the rest down between each exercise. You can easily do this workout early in the morning before breakfast. The workout provides good energy for the rest of the day. I divided the tabatha sessions into:

1. Leg training
2. Core training
3. Upper body training

All these workouts are done with your own body weight. The only accessories are the following:

1. Expander (rubber hose) for some of the upper body exercises
2. Exercise mat
3. Resistance band for side steps

I set up three more strength workouts in the gym in about 45 min. Here too, I varied the strength exercises but a lot of focus on the bigger muscles such as the buttocks and thighs.

The toughest workout was a stair workout, where I went up a long and steep staircase ten times. During this session, my breathing was heavy and my legs was really burning.

10,000 STEPS A DAY
In addition to the training, I have averaged 10,000 steps / day for 100 days. Generally, I walk 5000-6000 steps a day. To reach 10,000 steps, I have mainly worked out on a stepper that I have at home and which can easily be stored without taking up space. 4000 steps were easily done in front of the TV for about 30 minutes and gives a little more endurance- and leg training than a powerwalk.
THE DIET
There are as many different diet programs as people on this earth. For me, it's relatively simple; It is about the number of calories consumed and the number of calories burned in a day. Not harder than that. I set up the following dietary rules:

- No candy
- No "Swedish fika"
- No ice cream or cake
- No snacks
- No sweet drinks or juices
- Fewer carbohydrates - more protein and fat
- No alcohol
- Smaller portions

In addition, I added a protein shake in the morning and one in the afternoon so as not to get too hungry.


SO HOW DID IT GO?
It has gone surprisingly well, but it has certainly required a lot of determination and fighting. I have felt fantastic and shitty about every other. At the same time, I have kept teeling myself, that this is only for a hundred days. I have made all the training except for three days when my body screamed in pain and I realized I needed to rest.

I have largely managed to follow the diet program completely. I have indulged in a few glasses of wine after 50 days. Refraining from wine has been the most difficult thing.

What I have especially noticed a difference in, is to take smaller portions. Actually, you can eat everything if you reduce the amount of food. This makes a huge difference! Removing candy has been easier than I thought it would be.

I have lost almost 20 lbs (9 kg), which is slightly more than my goal. Already after 30 days the change was massive and after 60 days the goal was reached. I have lost 13 cm at the waist, which is also above expectations. The feeling of having passed this challenge is amazing! Now I feel so good in my body and I do not regret for a second that I decided to do this.

Although I reached the goal early, it was right to go on for hundred days, because I think it takes a longer period to make a lasting change. The energy level I have now is higher and I have learned a lot about myself. The best feeling is probably that I can trust my own ability to handle the sugar craving. In the past, I felt that I lacked the ability to say no.

WHAT WILL HAPPEN NOW?
This week I will treat myself with a cinnamon bun and an ice cream and a glass of good Barolo. I will continue to exercise almost every day and especially eat less. Also, the stepper is a friend I never let go of. It is so simple and effective. Besides, I now want to run more, because I have not done much in the past hundred days. The focus has been on building muscles to be able to become a better runner and athlete.

Now I will enjoy the summer and refill the wardrobe with new YMR gear in a smaller size. Hope someone is inspired to test my "Hundred days of change". Good luck!
- Peter Häggström Lindecrantz