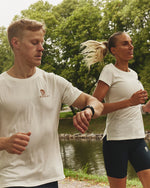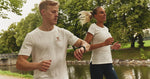 YMR TRACK CLUB & SAMSUNG GALAXY WATCH6 CLASSIC
YMR TRACK CLUB & SAMSUNG GALAXY WATCH6 CLASSIC
THE INTERVAL SESSION
YMR Track Club was founded on the track, athletics is in our DNA. We are no stranger to training hard and we understand the benefits using different sessions, including intervals to improve performance. Tough though they maybe, intervals are important because they bring so many benefits including helping build cardiovascular fitness and anaerobic capacity, boosting metabolism and if that wasn't enough, they also provide variety and motivation.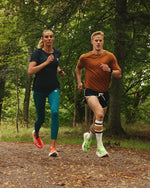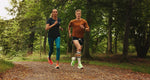 But to get the best results from interval training, sessions should be tailored to your own fitness level and often it is difficult to know where to start. So, when we were asked to test drive Samsung's latest running watch, the Galaxy Watch6 Classic with its big screen and new features including customised workout routines and sleep tracking, we were excited to see what it could do.

The watch is exactly as you'd expect, it's super light and it's big screen, Samsung's biggest watch screen ever, makes it very easy to read and see visuals and moving graphics. It's worth putting time aside to explore all that the watch offers, to make the most of the beautifully designed and thought through features that are available to support everyday wellbeing.

But we are here to talk about intervals, and here's what we got up to.

With a new piece of tech it's always tempting to rush through things and just put it on and head out the door, but patience and attention to detail is a key characteristic in training so with that in mind we made a coffee and put some proper time aside to get to grips with the watch.

Firstly, we made sure that our heart rate was being monitored continuously in settings. Then became best friends with the 'bezel'.

To set up intervals we used the bezel and headed to the screen with 'Walking, Running, Cycling and More' image. We then clicked 'More' for more activity options, scrolled to 'Running' and clicked on the 'settings' symbol to set up our own program*. We've noted the steps below to help you get started.

GETTING STARTED
Click 'HR zone' guide and make sure it is on and then customize it for minimum andmaximum heart rate. Once set use the back button to get back to other options.
Click 'Target', select 'on' and scroll to 'Interval'.
Click on 'Interval' where there is the choice to setting two workouts.
Set 'Workout 1' – choose an interval and click 'done'
Scroll down to 'Recovery Time' and choose recovery time
Scroll to 'Repeat' and choose the number of sets
Then get your run kit on, YMR Track Club of course, lace up your running shoes andhead out. When you are ready to go, click start
We found the watch super helpful. The voice commands reminded us what interval set we were on and what our heart rate was so we could push harder or ease off, the colours change too so it's really easy to understand. Post run, we could review our session on the Samsung Health app and make adjustments for next time.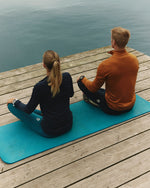 To finish, whether you are just getting started or a seasoned runner, we think the Samsung Galaxy Watch 6 Classic is a great tool to help improve your performance. We had a lot of fun with it and learnt a lot from the data.

To read more about the Samsung Galaxy Watch6 series, take a look here. As part of the YMR Track Club community you can enjoy a 10% discount on the new Galaxy Watch6 series at:
https://www.samsung.com/se/watches/galaxy-watch6/buy/
(discount value up to 590 sek) Use the link and enter the code RUNWITHGALAXY at the checkout to get your discount. The offer is valid until 26 October 2023

* Personalisation of Heart Rate Zone enabled when selecting outdoor run activity. It is required to run consistently for more than 10 minutes with speed of 4km/h or faster.